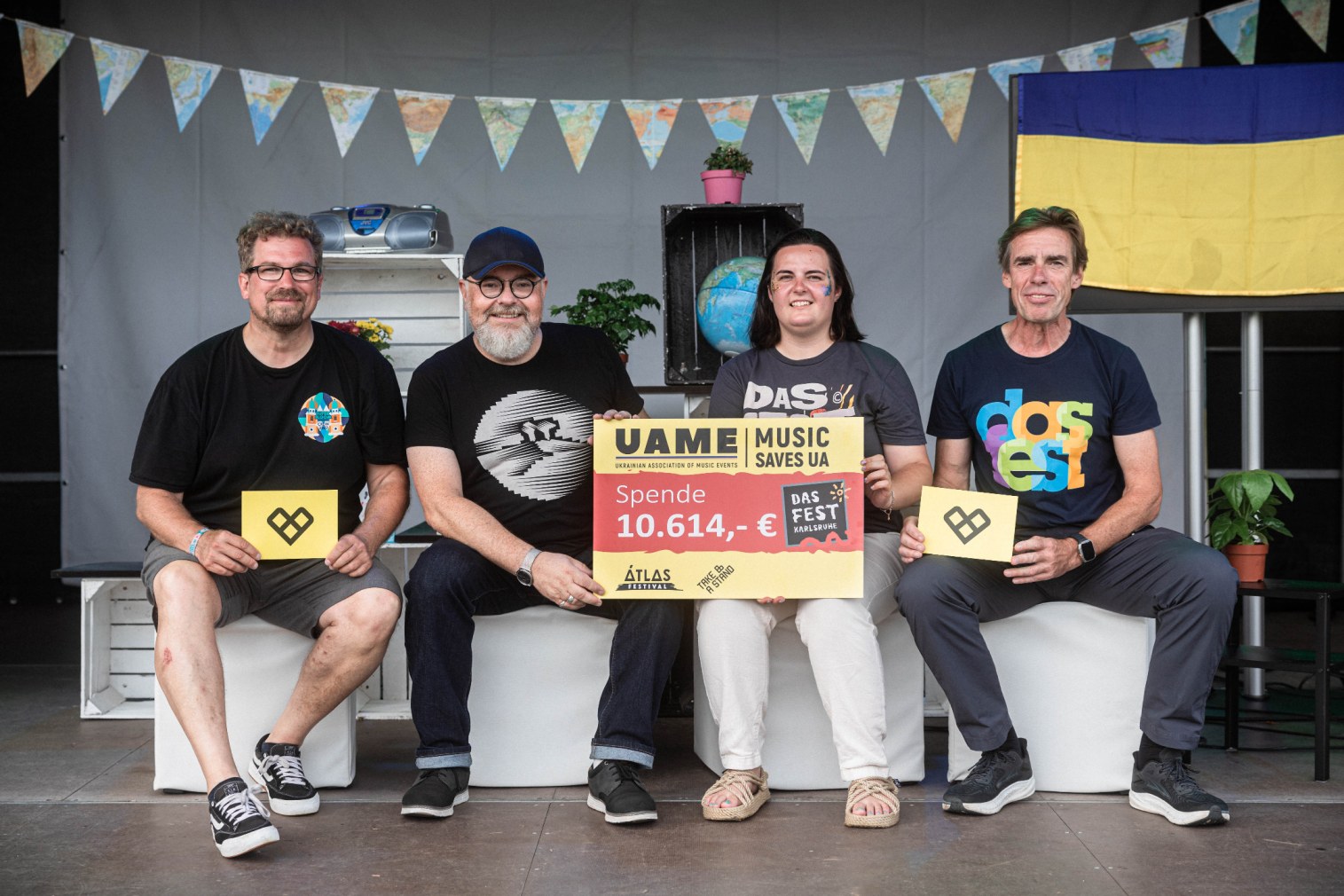 DAS FEST family donates 10,614 euros to Music Saves UA
Even before the Ukrainian rapper Alyona Alyona was allowed to open the musical program on the main stage of DAS FEST 2023, her compatriot Mariana Mokrynska had her say there. She thanked Martin Wacker, Managing Director of the organizing Karlsruhe Marketing und Event GmbH, for the fact that DAS FEST supports the aid organization of the Ukrainian music industry, Music Saves UA, for the second year now. This year, Mokrynska and her team were present at DAS FEST with their own booth, where they were able to tell visitors firsthand about the effects of the Russian war of aggression and collect donations.
DAS FEST generated a total of 10,614 euros in donations through cup deposits during DAS FEST. At six locations on the festival grounds, visitors could throw the printed DAS FEST reusable cups, which celebrated their premiere this year, into garbage cans with yellow lids. "We are incredibly happy about this support from the DAS FEST family," says Markus Wiersch, project manager of DAS FEST. "It is precisely this social commitment that shows what the DAS FEST family is all about," Wiersch continues. Last year, 21,000 euros were raised in this way. Sunday afternoon Martin Wacker, Markus Wiersch as well as Holger Jan Schmidt, General Secretary of the European Festival Association YOUROPE, handed over the check on the YOUR PLANET stage - the forum for positive action and social responsibility - during the Superbloom Festival in Munich, where Mariana Mokrynska and her team were also guests.