General information
about DAS FEST
Site opening hours DAS FEST 2023

| | | |
| --- | --- | --- |
| Thursday | 20.07.2023* | 16:30 – 00:00 |
| Friday | 21.07.2023 | 16:30 – 02:00 |
| Saturday | 22.07.2023 | 12:00 – 02:00 |
| Sunday | 23.07.2023 | 09:00 – 00:00 |
*on Thursday, 20.07.2023 not all areas of the site will be played.
Site opening hours DAS FEST AM SEE 2023

| | | |
| --- | --- | --- |
| Wednesday | 12.07.2023 | 17:30 – 00:00 |
| Thursday | 13.07.2023 | 17:30 – 00:00 |
| Friday | 14.07.2023 | 17:30 – 00:00 |
| Saturday | 15.07.2023 | 17:30 – 00:00 |
| Sunday | 16.07.2023 | 11:00 – 00:00 |
| Monday | 17.07.2023 | 17:30 – 00:00 |
| Tuesday | 18.07.2023 | 17:30 – 00:00 |
Info
What do I have to consider when visiting DAS FEST?
We understand that every visitor wants to get to the festival area quickly to hear their favorite band. But please understand that the admission phase may take longer due to intensive controls. So a big request to you: If you are in line, please be patient and don't push. After many consultations with authorities and police we are of the opinion that these measures are necessary to be able to offer you the highest security possible. In the end, the controls benefit everyone. But of course you can also make your contribution to a smooth entry phase. Please bring only the most necessary utensils for a festival. These should all fit into a "gym bag" (cloth bag, approx. DinA4 format), which can be easily controlled. Please leave large backpacks at home. What else is not allowed on the festival grounds, you can find here. And for those who come without a backpack or large luggage, it's even faster. Here you have the possibility to get an express access via the Fast Lane.
Generally allowed
Baby food

Stroller

Disposable cameras / pocket cameras

Pocket umbrellas (pecks allowed)

Motorcycle helmets


Additionally for DAS FEST Sunday applies
One tupperware box (small amounts of food)
Generally NOT allowed
Dangerous objects

Bicycles

Camera Tripods / Selfie Sticks

Large umbrellas

Pets
Tables, chairs
Skateboards, inline skates
Bottles
Pressure vessel (e.g. deodorant)
Food, drinks
Food and drink in general
It is not allowed to bring drinks or food, because THE FEST is mainly financed by the sales of drinks and the food stalls. But it's not worth it for you to carry anything, because we have everything you need. A large selection of chilled drinks, fair trade coffee in DAS FEST cups, freshly tapped beer and even a good wine selection. We have also expanded the range of food on offer in recent years. In addition to the variety and the regional origin of the food providers, we also make sure that we cater for food intolerances as well as vegan and vegetarian diets.


Drinks/Food at Classic Morning
Time and again, the question arises as to what food and beverages may be brought to the Sunday morning classical music breakfast: Since the Classical Matinee can also only be realized at great financial expense, co-financing through beverage sales is necessary. Visitors can make their contribution to the preservation of the breakfast tradition on FEST Sunday by purchasing tea, coffee, sparkling wine, water or soft drinks at the beverage stands of DAS FEST. In addition, our partner, Hatz Bakery, will be offering a "breakfast bag". As a good tradition, DAS FEST allows you to bring tea or coffee for your personal use as well as a snack, some fruit or a granola bar. But please, fix your snack at home. Neither cake knives nor butter knives, but also all other kinds of knives and dangerous objects, are allowed on the festival grounds. Please also leave your picnic baskets or cooler bags at home. You will help to avoid long waiting times at the entrance to the festival area and to avoid trouble at the entrance. DAS FEST recommends "gym bags" made of fabric (about DIN-A4 format) for transport. Everything necessary for a festival fits in here, and it is also easier and quicker to check.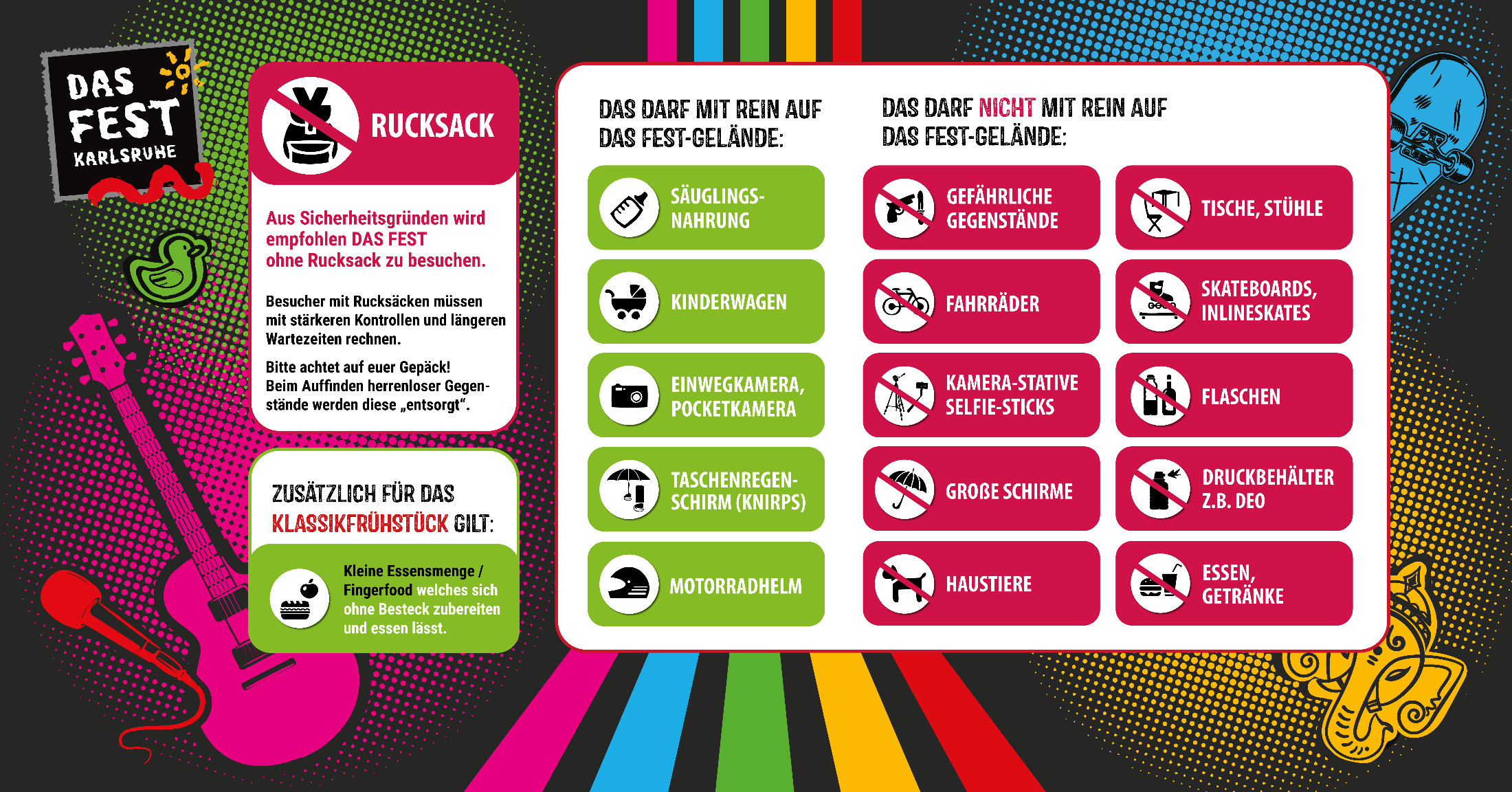 To avoid this situation, it is best to arrange to meet every hour, for example, at the marked meeting points directly next to the DRK tent, on Karl-Wolf-Weg by the bridge or on the hill to the left of the main tent. But please do not meet at the streetcar stop or in front of the stage. You won't find anyone there because of the large crowd.
If you have lost something on the festival grounds during DAS FEST, please contact the merchandising booths or the DAS FEST information booths (both in the hill area as well as in the children's and cultural area). If it has not been handed in there, you can pick up all lost property at the municipal lost and found office after DAS FEST.
Of course, weather conditions can occur at an open-air festival, which we naturally do not wish for, but which also cannot be avoided. Basically, DAS FEST will take place in any weather. If there are dangers due to weather conditions, we will provide you with safety instructions on site.
Stage diving, crowd surfing, pogoing, climbing on the stage, trusses or barriers is strictly prohibited.
Experience THE FEST up close: no problem with us! On the two high-resolution LED screens on the main stage and one each in the café area and behind the hill, you can experience the live acts in large format. Furthermore, current information and safety instructions will be communicated continuously via the screens.
In the hill area as well as in the children's and cultural area you will find the DAS FEST information booths. The staff is always available to inform you and help you.
Music festivals have a high sound level. Therefore, it is strongly recommended to use earplugs to protect against possible hearing or health damage. These are available at every festival merchandising stand or at the DAS FEST information booths.
You can buy earplugs at all merchandising stands. Disposable earplugs will also be handed out free of charge at the DAS FEST information booths.
Every music lover should have the opportunity to be at DAS FEST. Especially for this purpose, we are building a wheelchair-accessible platform for wheelchair users at the technical control tower opposite the main stage. Likewise, there are wheelchair accessible toilets on the festival grounds. Unfortunately, we are not able to make all areas of DAS FEST wheelchair accessible. We therefore hope for your understanding.
Tickets: People with handicap / wheelchair users need a regular ticket. With the corresponding mark "B" in the severely disabled ID, they can bring an accompanying person free of charge and without a ticket. For more information about wheelchair access to the festival area, please send a short e-mail to info_at_dasfest.de.
Nature is our greatest asset. It is a great concern for us to organize THE FEST in harmony with nature, environment and ecology. Therefore, there is a uniform deposit regulation during the entire festival time. In the children's and cultural area PET bottles, glass bottles, wine & champagne glasses and cups will be handed out. In the hill area there are DAS FEST returnable cups, PET bottles, returnable wine & champagne glasses and - only on Sunday morning (!) - cups and as an exception champagne bottles.
Want a freshly tapped beer? No problem with us! After the positive feedback of the past years, our barrel runners will be used again this year and make sure that you get your freshly tapped beer in the entire hill area against cash payment.
Please note, however: Our barrel runners on the hill will only dispense beverage cups. However, due to space limitations, they cannot take back any cups. You will receive a deposit token with each cup, which you can use to return the cups to the numerous beverage stands.
Bottles 1,- Euro each, DAS FEST reusable cups 2,- Euro, wine/champagne glasses or wine/champagne goblets 2,- Euro and DAS FEST cups 5,- Euro. In addition, wine and sparkling wine bottles will be available on Sunday from 9:00 to 14:00, also with a 5,- Euro deposit.
NEW: to hand out DAS FEST branded products (DAS FEST reusable cups and mugs) there are no deposit tokens, here the cup or mug is the "deposit token"!
For all other products, deposit tokens will be issued; 1 deposit token = 1.00 Euro value; for a 2.00 Euro deposit, 2 deposit tokens will be issued accordingly.
Here you get even more info
Info